SECURITY
---
Testudo roller shutters are made up of two combined core parts: on the outside, an extruded aluminium shell resistant to break-ins and wear from any type of weather, especially hail; on the inside, a PVC profile. This combination of materials and unique manufacturing techniques creates a product with high mechanical resistance to external conditions.
ARMOURED ROLLER SHUTTERS WITH SECURITY SYSTEMS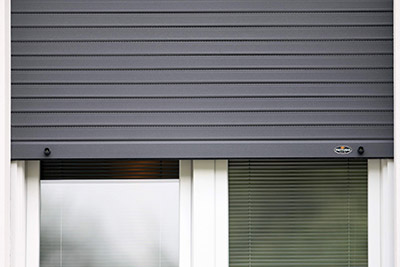 Testudo roller shutters, strengthened with an extruded aluminium external shell, guarantee exceptional resistance against break-in attempts and are, in all respects, armoured roller shutters. Among their countless advantages, of which the most important is undoubtedly security, they also do not require masonry work, given that they have the same external dimensions as the roller shutters to be replaced, if need be. Other than the basic security features, Testudo roller shutters can be equipped with locks and SYSTEMBLOCK, an anti-lifting system for shutter, which, using a motor block, puts up a strong resistance against lifting attempts.
Extruded aluminium external shell of 11/10 thickness
Thermal insulation
Noise reduction
Weight per m2 from 8.5 to 13.5 Kg depending on the model
SYSTEMBLOCK automatic anti-lifting system
Closing system with master key
Polyester powder varnishing (minimum 60 microns) subject to degreasing, chromatisation and drying. Powders from QUALICOAT certified companies
---
SYSTEMBLOCK
SYSTEMBLOCK is a shutter anti-lifting system that can be automatic with a thrust block tape, or automatic with pulleys. Systemblock security systems use a motor block and put up a strong resistance to attempts at lifting the shutter. They activate automatically when the shutter is fully closed. Systemblock functions exclusively where the shutter motion system leaves the roll locked, therefore in the case of geared motors and hand crank gears.

---
SECURITY LOCKS
Testudo, particularly conscious about security, offers the possibility of equipping the roller shutters with special extra-flat locks. Manual locks for roller shutters can be implemented inside any Testudo shutter, not visible from the outside and placed at any height, even asymmetrically. On the Special and Superevo models, with a thickness of 14 mm, the locks have master keys. On all other models, the keys have a "token" locking system.
Testudo provides security locks on both the manual motion models and the motorized roller shutters on request.
"Key" system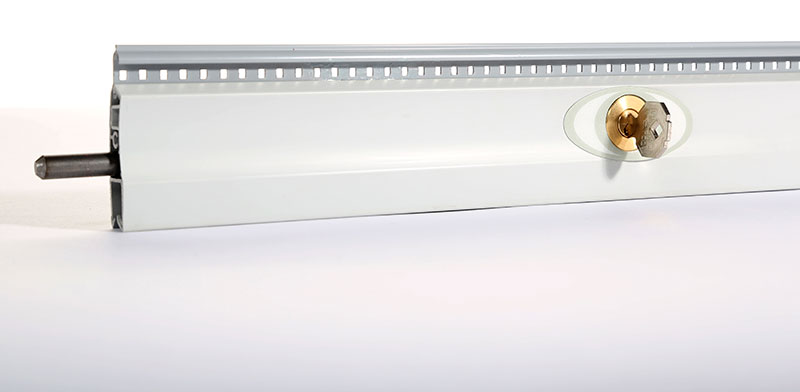 "Token" system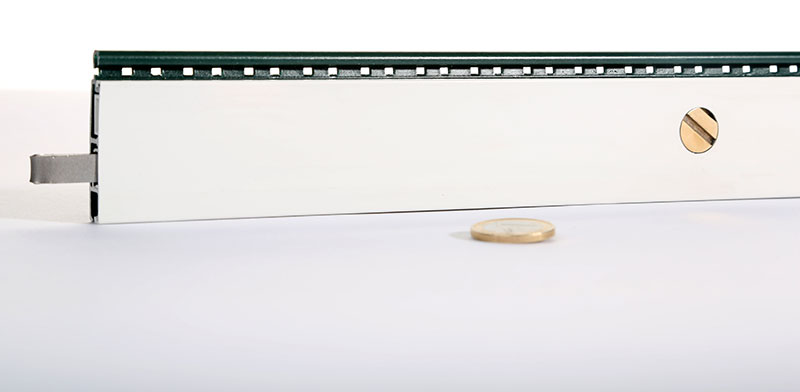 ---
HANDLING
TESTUDO manufactures roller shutters for both manual and electric motion systems
MANUAL OPERATION
Manually operated systems are divided into:
Tape systems: the most simple, and still the most common, that can be used in traditional system installations, where it is built-in, and with a box where it is on the outside. This is recommended for roller shutters that are not excessively heavy.
Winch systems: that use a crank gear, fixed to a pulley, for winding and unwinding the roller shutter.
MOTOR OPERATION
Testudo offers the possibility of motorisation on all models in the range.
Testudo motorised roller shutters, as well as having all the advantages of manually operated models, give maximum comfort, quality and ease of use.
The motor roller shutters can be operated by a wall switch or, even more conveniently, with a remote control. A single remote control can manage every roller shutter in the house at the same time or individually.
The power of the motor depends on the size, type and weight of the roller shutter. The more technologically advanced systems allow pre-set automatic manoeuvre of the motorized roller shutters. This system enhances security, by giving the impression that the house is always inhabited.
Thanks to its special controls and its controlled and steady speed, there are no drawbacks such as trapping or friction. In addition, Testudo motorized roller shutters ensure durability and minimal noise.